Menu
Home
Cranes
Chain hoists
Wire rope hoists
Winches
Complete crane systems
Service
Other equipment
Other services
References
Contact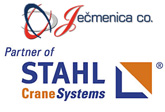 Cranes – Chain hoists
Chain hoists from STAHL CraneSystems are compact and easy to maintain.

No other manufacturer offers such a large complete range of chain hoists as STAHL CraneSystems. With safe working loads between 63 and 6,300 kg, explosion-protected versions, modular design and countless off-standard solutions the chain hoists are equipped for the most varied applications.

STAHL CraneSystems rounds off its offer with the SC chain hoist.

The newly developed standard chain hoist combines intelligent design, modern equipment and an attractive price-performance ratio. It is also available with frequency inverter as the SCF chain hoist.

Both ST and SC chain hoists are available with reduced headrooms, suitable for installation in the most inaccessible of places.

The SHK and SHK+ manual chain hoists and the SHKex explosion-protected manual chain hoists are a useful addition for manual workstations, flexible use and areas without a power supply. They cover a wide spectrum of applications with an S.W.L. range from 250 kg to 20,000 kg.
Download catalogue:
CRANES
STAHL CraneSystems is ranked among the leading producers of equipment for weight lifting, with their high standards in innovation.




COMPRESSORS
Procurement of air compressors from world renowned companies like MARK, BAUER and SAUER, dryers and other accessories and spare parts.